Comhlachas Iascaigh Mhara (Sea Fisheries Association)becameBord Iascaigh Mhara (BIM) in 1952During the period 1948 to 1957, 80 boats were given out by An Bord Iascaigh MharaJuly 1948 reference
The capacity of the boat-yard at Killybegs is an output of five boats per year. The first boat built is due to launch July 1948Seanad Éireann - Volume 46 - 18 July, 1956
Sea Fisheries (Amendment) Bill, 1956 (Certified Money Bill) —Second and Subsequent Stages.No deposit is necessary for a boat under the Gaeltacht boat scheme and quite recently one of these boats was handed over and is at present fishing into Teelin in Donegal. We hope to have another of these boats available for handing over at an early date.It must be borne in mind, however, that one cannot build boats overnight. From the commencement of operations until the boat is completed is approximately 12 months.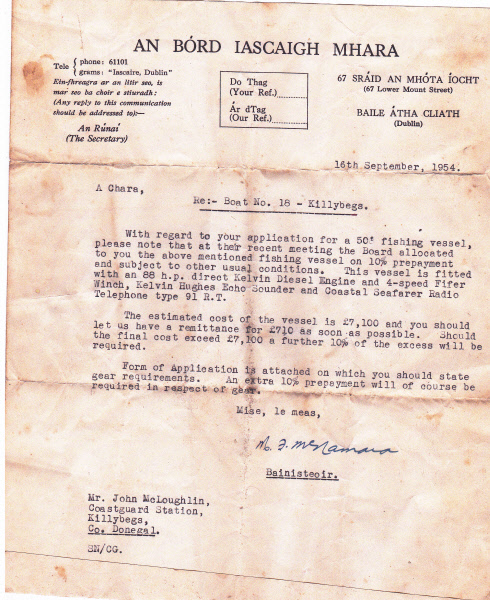 'Original letter allocating boat No:18 of the Killybegs Boatyard to John McLoughlin'. She was named 'Ros Donn'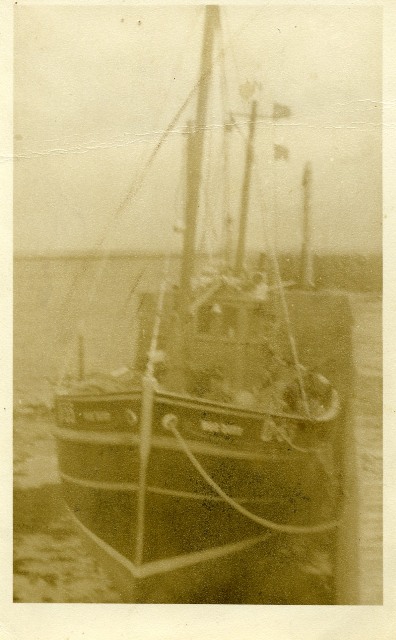 'Ros Donn' at Killybegs Harbour - 1957Photo credit:-
INDR1198 Fishing Boat Killybegs 1957.
Courtesy of the National Library of Ireland
Dáil Éireann - Volume 136 - 18 February, 1953
Ceisteanna — Questions. Oral Answers. - Meevagh Boatyard.Parliamentary Secretary to the Minister for Agriculture (Mr. Bartley): I am informed by An Bord Iascaigh Mara that the boatyard at Meevagh was reopened in January, 1951. One fifty-foot boat has been built and the construction of another is well advanced. A considerable amount of repair and reconditioning work has also been done in the yard. The staff at present consists of a chargehand, four boatwrights, three apprentices and a labourer.Dáil Éireann - Volume 146 - 02 July, 1954
Committee on Finance. - Vote 28—Fisheries.In the 12 months ended 31st March, 1954, the board issued to fishermen, on hire purchase terms, a total of 13 motor boats, ten of them built in the board's own yards. Of the total, one was of 60 foot length and nine of 50 foot class, two of 35 foot and one of 28 foot. In addition, a few non-powered boats of small size were issued.Dáil Éireann - Volume 152 - 13 July, 1955
Committee on Finance. - Vote 28—Fisheries.I am sure that the House will be interested in what has been achieved by the board in that regard during the year ended 31st March, 1955. In the year, ten new 50 ft. boats were built in the board's own yards, and one 60 ft. boat was built in another yard in the country. In addition, the board reconditioned six boats, one boat was engined and two secondhand boats were purchased and issued to fishermen. At the 31st March, 1955, the board had under construction in their yards seven 50 ft. boats while other yards in the country had in hands to the order of the board one 45 ft., one 50 ft., two 55 ft. and one 60 ft. boats.Dáil Éireann - Volume 153 - 10 November, 1955
Ceisteanna—Questions. Oral Answers. - Prices of Fishing Boats.Mr. Rooney asked the Minister for Agriculture if he will state (a) the present cash price of a 50-foot fishing boat, excluding gear, ready for sea at the Bord Iascaigh Mhara boat building yard, (b) the price under the hire purchase scheme and the minimum deposit to be paid, and (c) the cash price of a similarly built 50-foot fishing boat at British and continental ship yards.Mr. O. Flanagan: I am informed by Bord Iascaigh Mhara that the prices of fishing boats vary according to the specifications of the vessels and the equipment installed and it is not accordingly possible to give a standard price for a particular class of boat. The average cash price of the 50-foot boats constructed by the board in the 12 months ended 3rd November, 1955, ready for sea but exclusive of gear, was £7,358, which was also the average issue price (excluding interest) under hire purchase contracts. The minimum prepayment in respect of new boats is 10 per cent. No information is available to the board as to costs of 50-foot fishing boats, similar to those constructed by them, produced in British or continental yards as quotations against specifications have not been recently sought.Dáil Éireann - Volume 175 - 04 June, 1959
Committee on Finance. - Vote 47—Fisheries.During the year ended 31st March, 1959, nine new boats — seven of 50 foot and two of 56 foot — were issued by An Bord Iascaigh Mhara to hire purchasers. Six further boats — four of [1004] 26 foot and two of 56 foot — were allocated under the special Gaeltacht Scheme financed from the National Development Fund. Another 56 foot boat issued was one of two for which grants had been provided in the Fisheries Vote.Dáil Éireann - Volume 203 - 12 June, 1963
Committee on Finance. - Vote 39—Fisheries.Minister for Lands (Mr. Moran) Minister for Lands (Mr. Moran)
Eighteen new boats ranging from 26 to 56 feet in length were issued by the Board to hire-purchasers during the year ended 31st March, 1963. The first of the new 65 foot fishing boats designed by the Board is nearing completion at their boatyard in Killybegs and the second has been laid down.